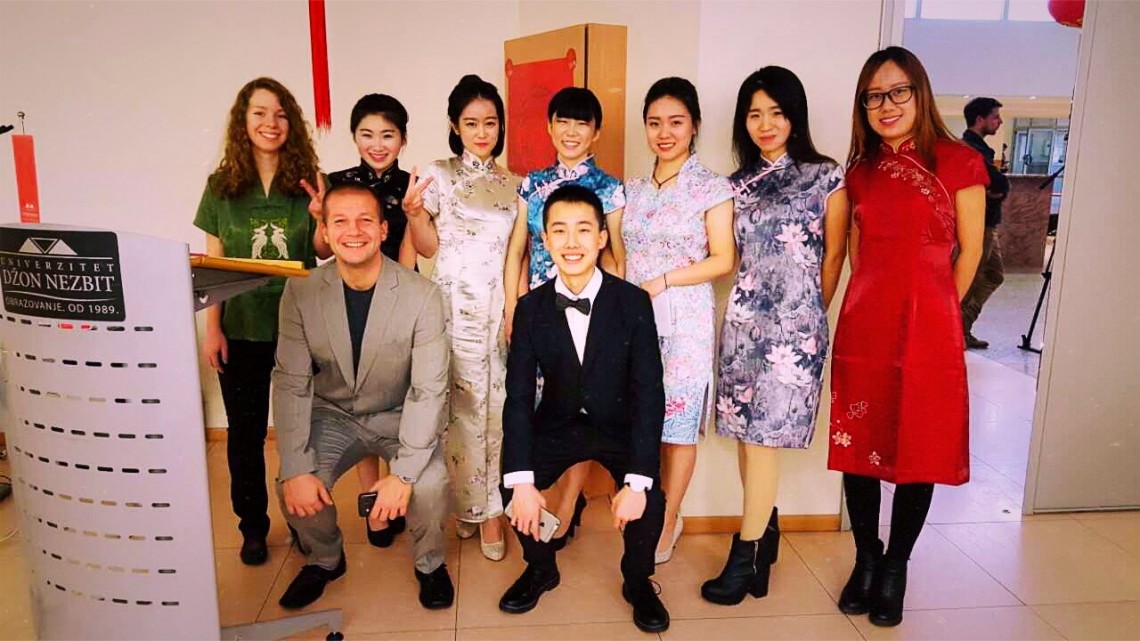 Dobar dan! Zovem se Hana.
I have been living in Serbia for more than five months now and more and more I am able to adapt to my life here. Teachers and students here are very enthusiastic; students took us to visit the famous attractions in Belgrade and we took a cruise ship to see the scenery. We went together with them for hiking, shopping and eating. Our University here and teachers are particularly attentive; they are always concerned about our life and learning and no matter what kind of problem  we have, they will always make an effort to help us.
Belgrade is a beautiful city, with nice vegetation, clear air, and the pace of life is slower than in China. People are relaxed and everywhere on the street I can see people drinking tea, chatting, and feeding the pigeons. Every day I have plenty of time to do the things I want to do. For example I can go for a run in the morning, than return to the dormitory, have breakfast, and then go to school to have language lessons.
In the first trimester, every Monday and Tuesday night we had classes with Serbian students and those were Chinese- Serbian language classes; we talked to each other about problems in learning Serbian – Chinese language or we  watched Chinese movies together. There were weekly classes about Intercultural management. We learned a lot about economy, business, different cultures and those lessons were in English. I think that those lessons helped us a lot improve our English language and they will for sure help us in our future work.
In  the second trimester besides language classes, we have classes about Serbian economy, and also about Serbian culture and history. It is my opinion that when we come back to China, and we can start working as volunteers at the Summit 16 + 1,  this  knowledge will be of great help.
After finishing almost one and a half semesters here, my colleagues and I have learned some basic communication in the Serbian language, and now I see that it is not so difficult to speak Serbian, as I thought after I came here.
We celebrated our first Spring Festival outside China here in February, and participated in various activities organized by the Chinese Center (John Naisbitt University), and Chinese Embassy here, so although we were living abroad, we felt a lot of warmth and hospitality.
Regarding the food, I can say that although I often miss Chinese food, having been so many months here I have adapted gradually to food here. My favorite dishes here are sarma and pita.
I am very happy that I came to Serbia! Not only did I learn new language, but I also become a step closer to my dream, to become a tourist guide one day. I will cherish my last two months here; during this time I will try my best to learn Serbian language even more, and to improve my physical and mental qualities.