Katarina Zakić
Director of China Center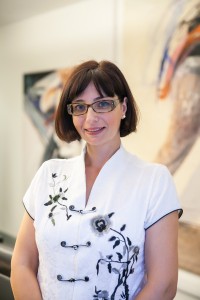 Katarina Zakić was born in Belgrade in 1976. Primary school "Svetozar Miletić" she attended in Zemun, and after that she finished X Belgrade gymnasium "Mihajlo Pupin". Faculty of Economy, Belgrade University (module: Marketing) she finished in 2001. After that she worked for many private and state companies, but in 2004 she started to work at Megatrend University (today's John Naisbitt University).
She took her master degree in 2007 at the Geoeconomic Faculty, and in 2011 she defended her PhD "The Distinctiveness of Management in Asia-Pacific Region: Interaction of West and East Experience (Case Study: Hong Kong)" at the Faculty of Business Studies.
She is currently Associate Professor at the Faculty of Business Studies, at which she teaches several subjects: Management, Organizational Behavior, Strategic Management Intercultural Management, as well as on master and PhD studies.
She is Director of Chinese Center at the same University since 2013.
Professor Zakic won Chinese scholarship "Visiting China" in 2014 that was given by Hanban and she spent one month in China at prestigious Nankai University in Tianjin.
Besides that, she also won scholarship from the Ministry of culture PRC for specialization, under the name Visiting Program for Young Sinologist 2016, which was conducted in Xi′an.
Her main fields of scientific interests are Management and Intercultural Management, and besides that business practice and economy in PRC, about which she wrote many scientific papers. She is speaking English language.